[7"] 123 b/w My Sweet Summer Suite — MXMRK2009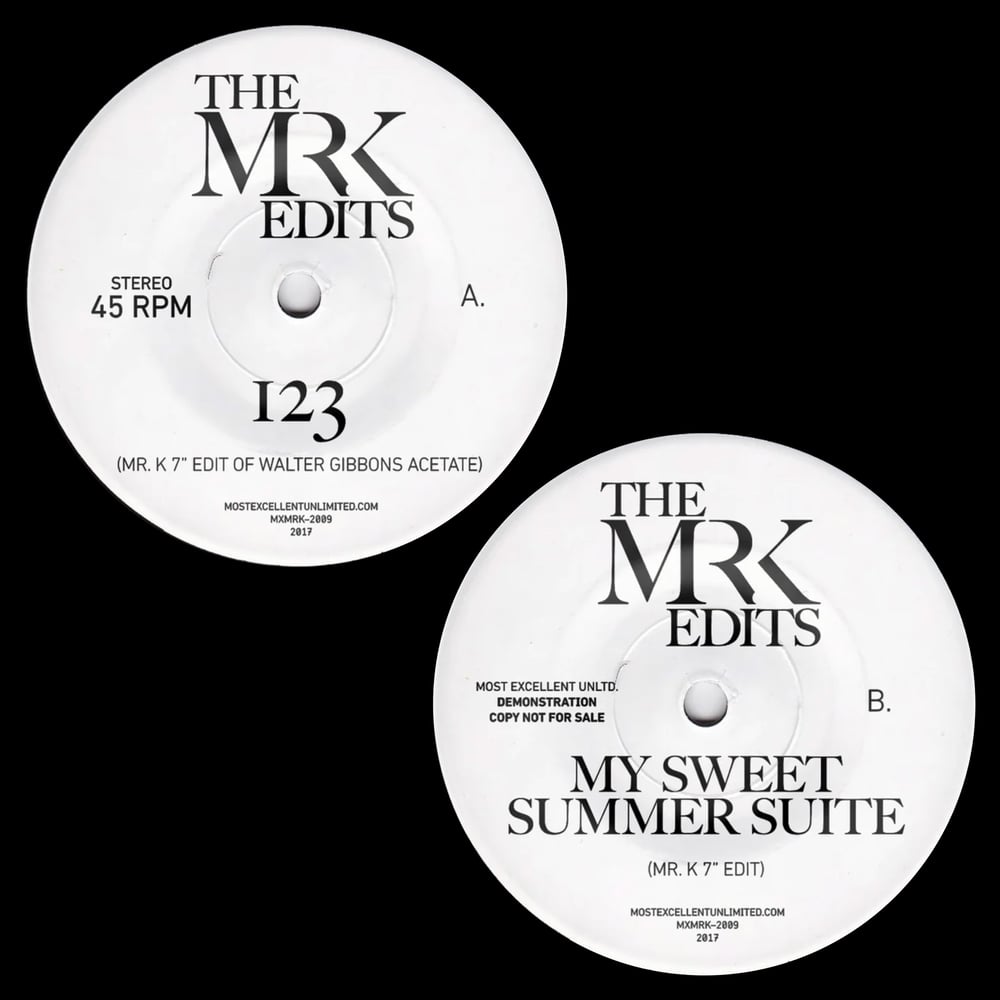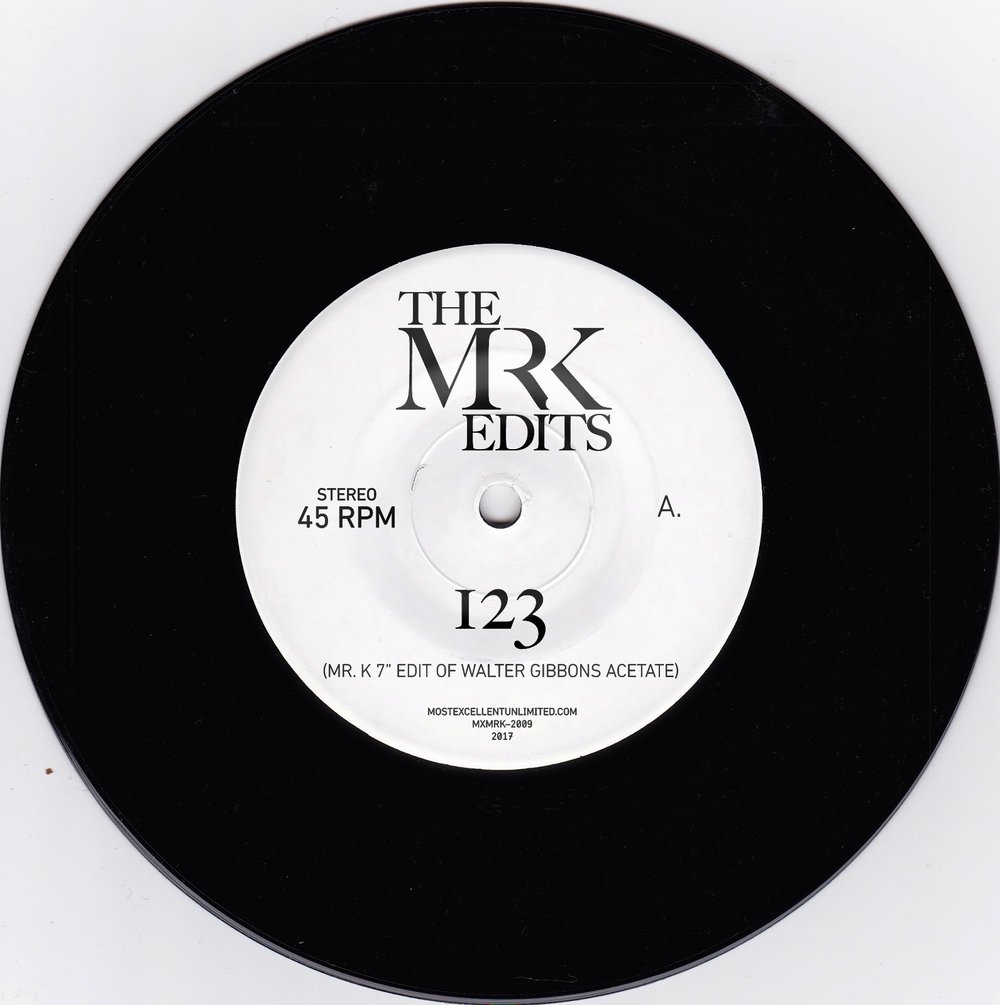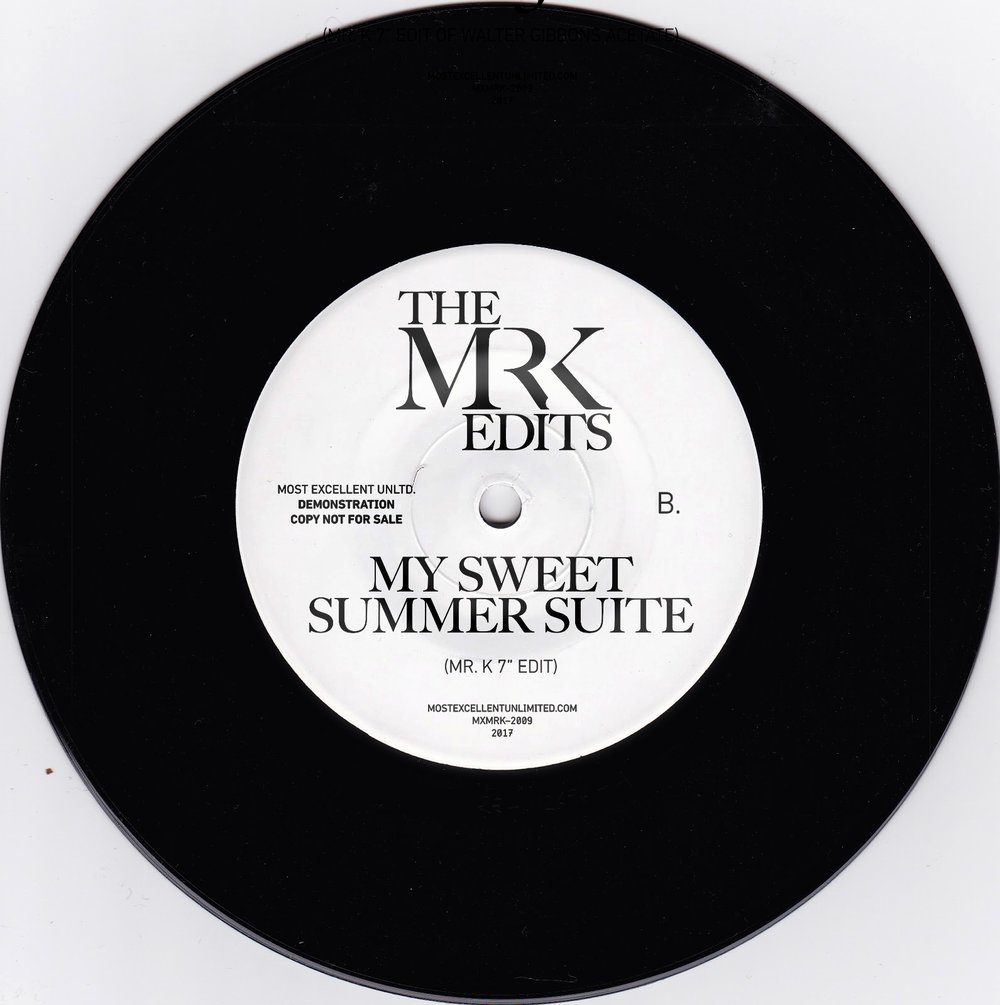 Cat # MXMRK2009 / Edits by Mr. K 7"
A. 123 (Mr. K 7" Edit of Walter Gibbons Acetate)
B. My Sweet Summer Suite (Edit By Mr. K)
The unstoppable Most Excellent Unlimited charges ahead with the ninth in the heralded Mr. K 45s Edits series, with this latest edition the most intriguing to date. Deep in Danny Krivit's voluminous collection is a 7-inch acetate rescued from the records left behind by master mixer and DJ Walter Gibbons when he passed away in 1994. The mysterious plate, simply labeled "1, 2, 3," was custom cut by Gibbons for his personal use in the early '70s when he and a partner operated a service called Melting Pot Sounds that provided one-off copies of otherwise unobtainable imports for NYC disc jocks. Most of the 20-odd known releases on Melting Pot Sounds have been identified, but the true provenance of "1, 2, 3" has remained elusive. The tune is a screaming, instrumental disco delight, with aggressive clavinet riffing broken up periodically by raunchy sax. For this Most Excellent Unlimited issue, Mr. K meticulously transferred his unique Gibbons acetate and further intensified the already propulsive track with a few choice edits of his own.
Not to be outdone, the flip side focuses on a ferocious percussion break that has previously only been available on a very poor quality 12-inch single. "Sweet Summer Suite" by Love Unlimited Orchestra has long been noted for its intro, a concoction of conga, cowbell, cuica and cabasa that drives dancers wild with its relentless, intense groove underpinned by a booming bass slide. Making its 7-inch debut here, the groove has been extended and teased as only a master could do, complimenting the A-side and creating a powerful DJ weapon.
As always, this Most Excellent Unlimited single has been mastered and pressed to the highest standards with loud DJ usage in mind, and will be available in extremely limited quantities.