(RSD BLK FRI '22) [7"] AK - SAY THAT YOU LOVE ME 20 YR LIMITED EDITION REISSUE — MXAK-001RE20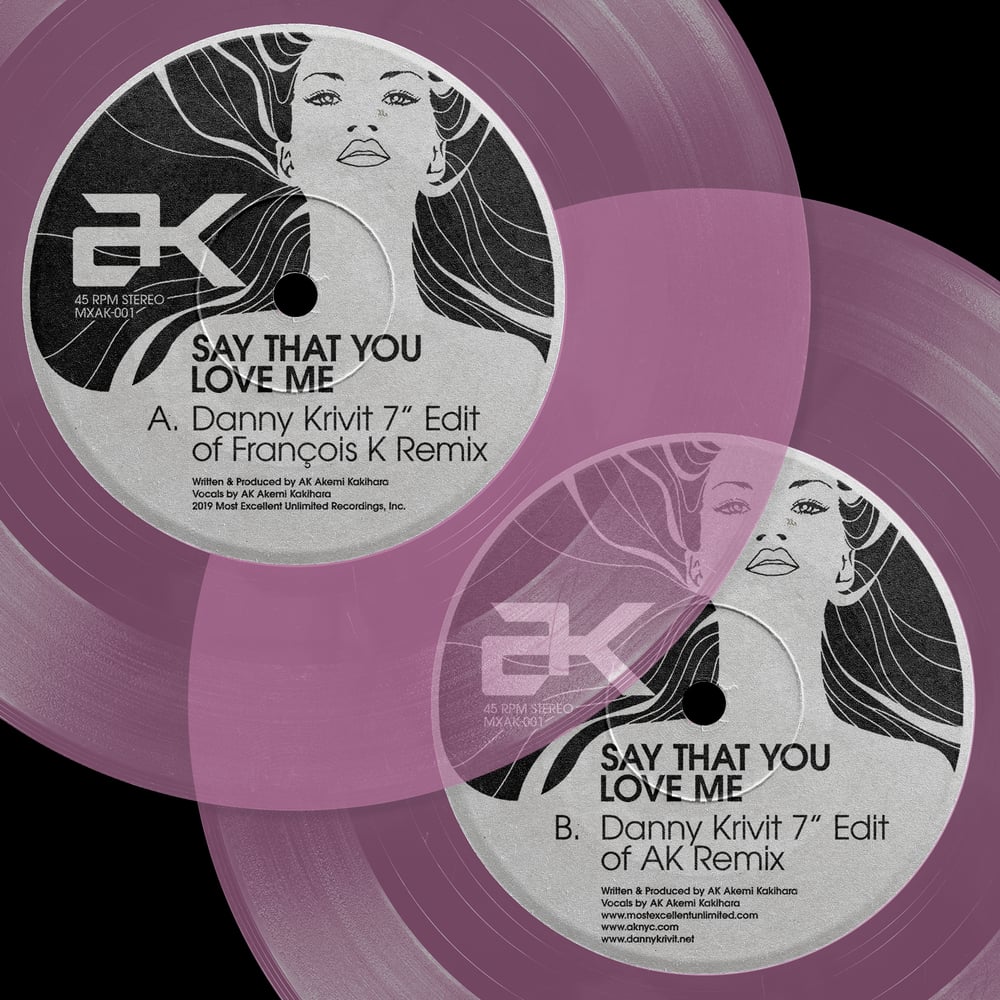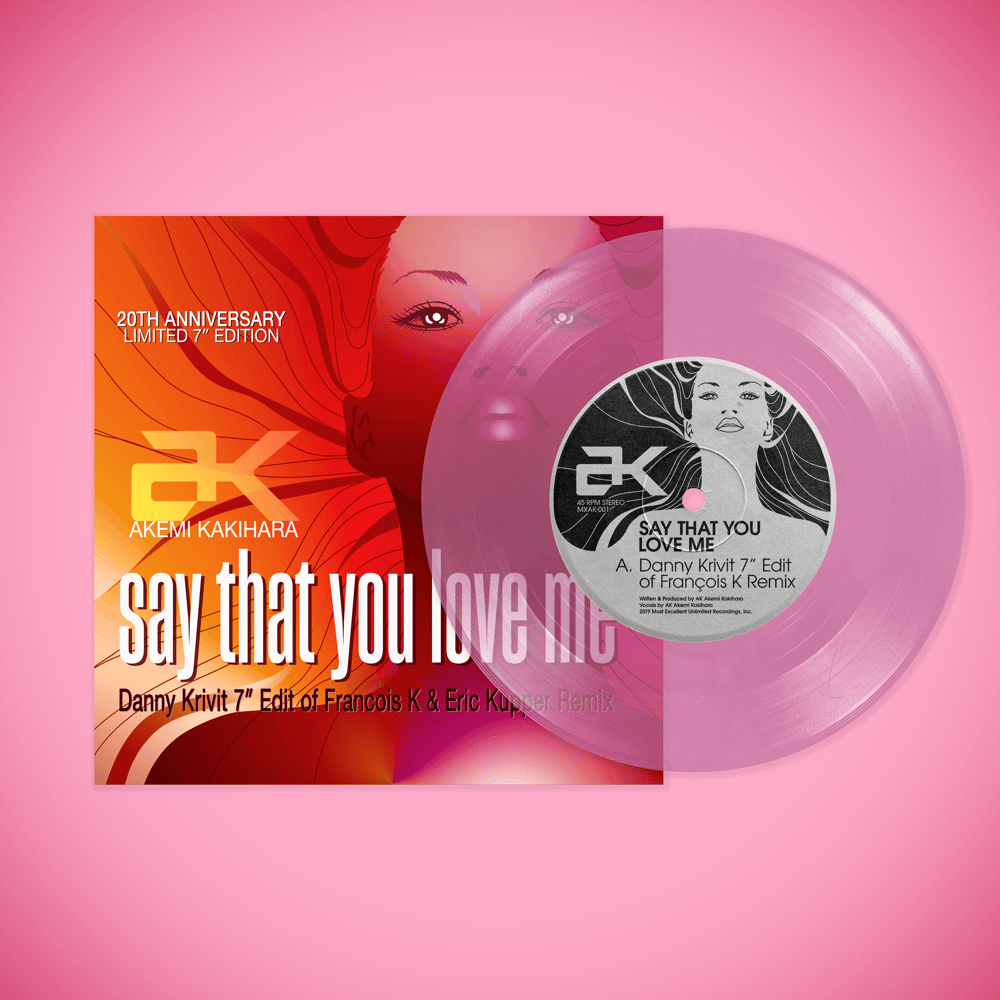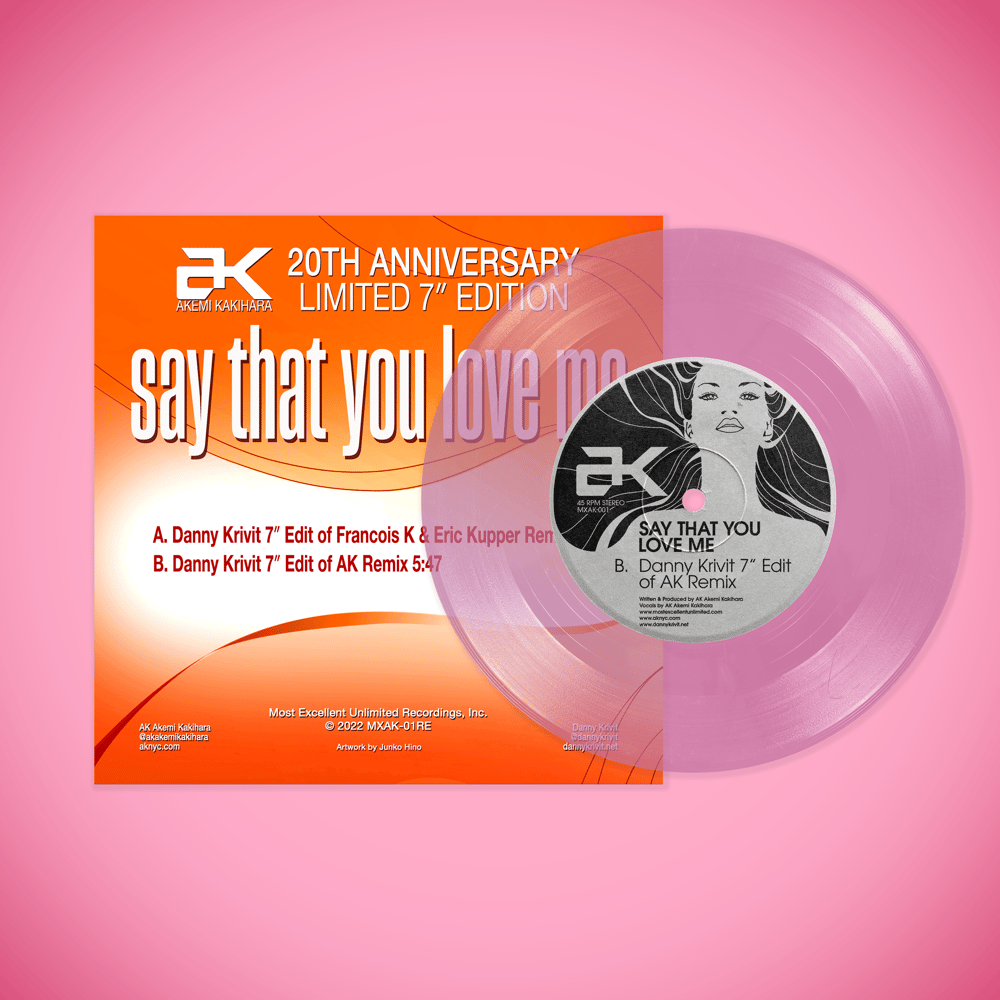 Cat # MXAK-001RE20 / Danny Krivit Edits / Clear Pink 7"
RSD Black Friday 2022
Now shipping!
AK - Say That You Love Me
20th Anniversary Limited Edition 7"
A. Danny Krivit 7" Edit of Francois K & Eric Kupper Remix
B. Danny Krivit 7" Edit of AK Remix
Most Excellent Unlimited returns with a deluxe edition of AK's soulful house classic "Say That You Love Me," with exclusive 7-inch edits by Danny Krivit on a limited edition collectors clear pink vinyl featuring a new picture sleeve.
Through her renowned & illustrious career, AK Akemi Kakihara has released fifteen albums and notched many hits in her native Japan, both for herself and with other artists she's written for. Beginning in the early 2000s, she also crossed over to the house world with several resounding tracks, making perhaps the biggest impact with "Say That You Love Me." The song was first released in a downtempo R&B mix in 2001, the year that Akemi Kakihara, now recording under the artist name AK, relocated to New York City. That same year, "Say That You Love Me" was licensed by King Street Records, who commissioned François Kevorkian and Eric Kupper to give the original a deep house treatment. The resulting remix was a runaway success, transforming the song into a sultry dance floor groover that perfectly embodied the sound of the day (and included a standout solo by Defunkt trumpeter John Mulkerin). It was quickly picked up by tastemakers like the Body & Soul DJs, Louie Vega, BBC Radio, and various radio stations across Europe as well as back in Japan, and in the twenty years since then, the song has only grown in stature, becoming a must-play anthem in Japan and with house heads across the globe.
For this special 20th Anniversary reissue timed for Black Friday Record Store Day, Most Excellent Unlimited has pressed Danny Krivit's 7-inch edits of the FK-EK remix and AK's own remix to a clear pink 7-inch, which also features a special picture sleeve by Junko Hino. Danny Krivit, who made the team official when he and AK were married in 2008, has done his usual expert job coming up with edits that go far beyond a typical lopped off 7-inch version and give the best of the long mixes while staying within the sonic confines of the more portable format.
With the long awaited availability of AK's entire early catalog now on streaming services, plus the arrival of an all-new full length album, the time is right to rediscover one of the great soulful voices of R&B and house, and nowhere better to start than this 20th Anniversary single.