[7"] Pursuit Of The Pimpmobile b/w Isabelle & The Rain — MXMRK2027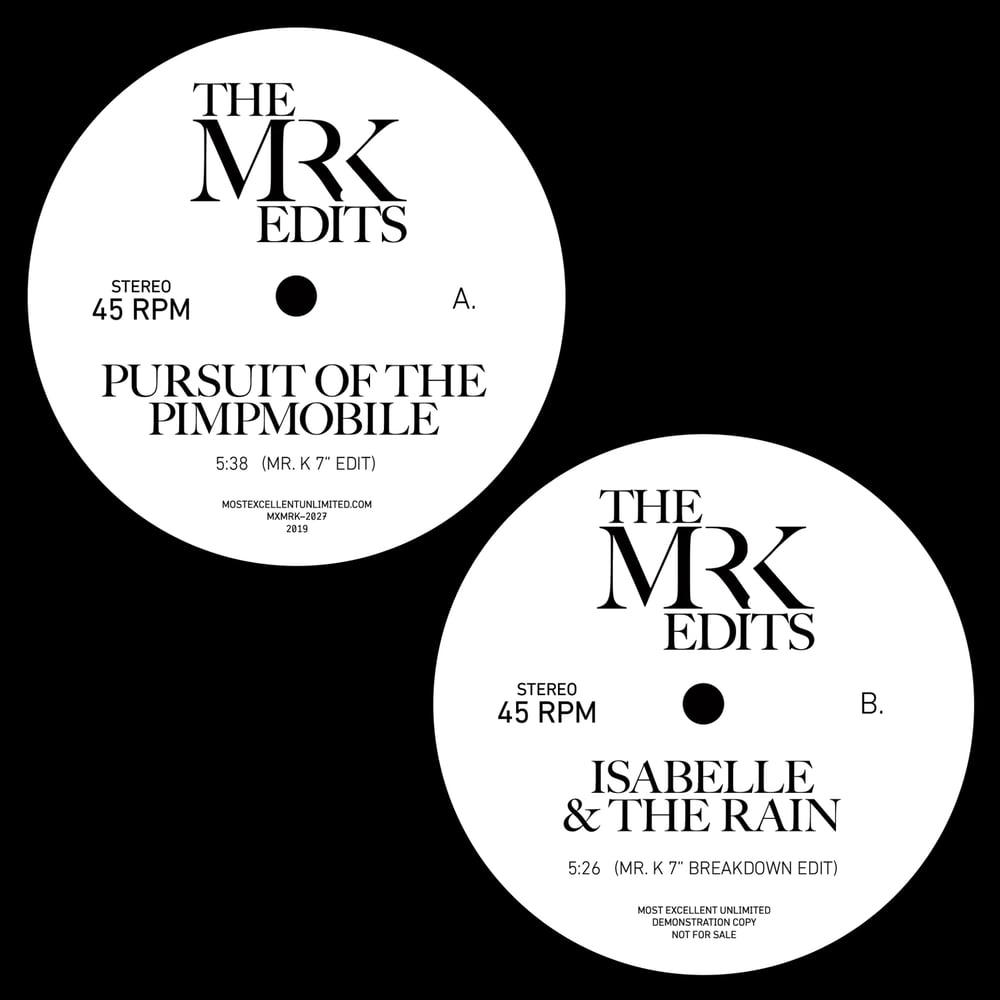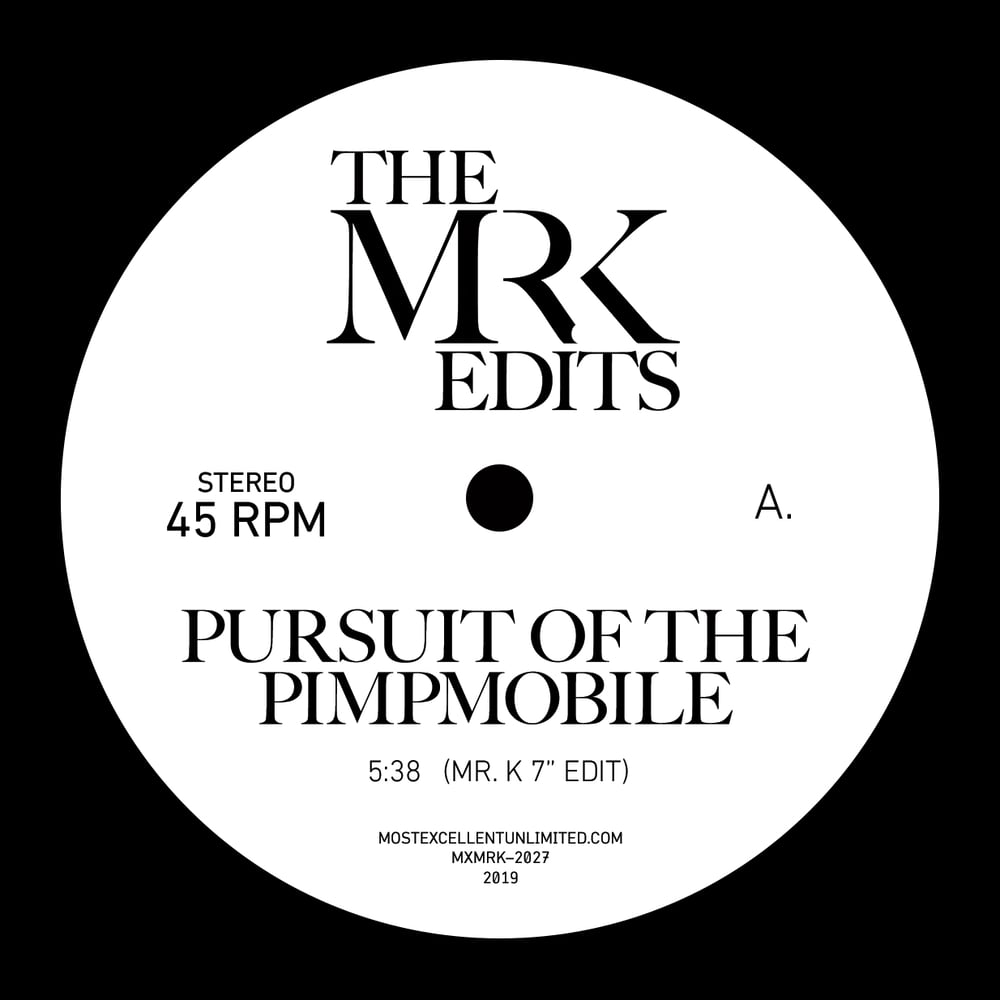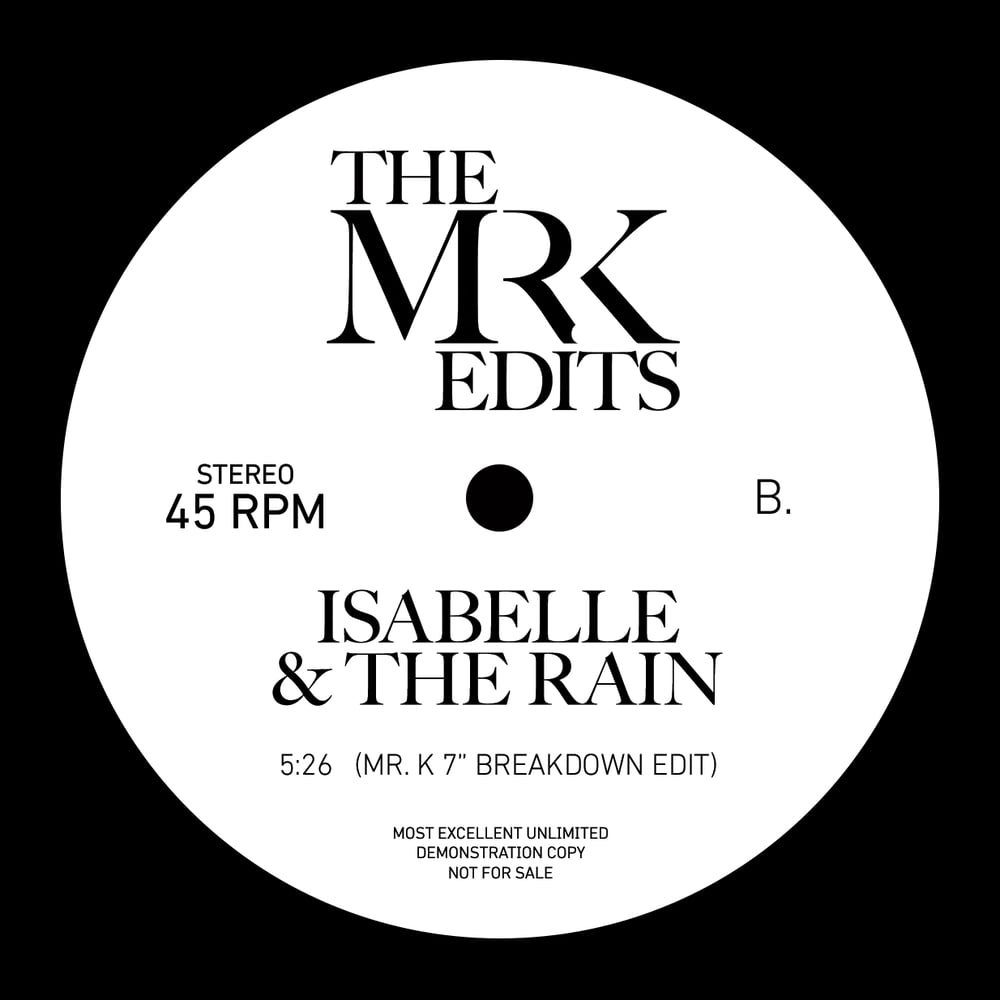 Cat # MXMRK2027 / Edits by Mr. K 7"
A. Pursuit of the Pimpmobile (Mr. K 7" Edit)
B. Isabelle & The Rain (Mr. K 7" Breakdown Edit)
1971: Isaac Hayes redefines what a movie theme can be with the worldwide sensation "Shaft," single-handedly making wah-wah rhythm guitar and racing hi-hats a prime ingredient for the decade of music to come. The huge success of "Shaft" meant Hayes was in demand to bring his vision of cinematic funk to other films, and in 1974 he scored (and starred in) the Blaxploitation B-movie Truck Turner. It's from this soundtrack that "Pursuit Of The Pimpmobile" is drawn. The progression Hayes made as a composer is clear: "Pimpmobile" uses complex layered guitar lines with brass and string sections that build and cascade over each other and takes the "Shaft" formula to an entirely new level.
The song became a firm favorite with funky DJs in the '70s, from the refined space of Mancuso's Loft to Bronx and Harlem jams. Indeed, when the Zulu Nation DJs began spinning at a downtown roller disco / dance club called The Roxy in the early '80s, it was firmly entrenched as one of their favorites. Another resident DJ at The Roxy was Danny Krivit, who was already well acquainted with the song and the effect it had on dancers. For this latest addition to Most Excellent Unlimited's steadily expanding catalog of Mr. K 7-inch edits, the master editor distills the sprawling nine-minute original down to a fit five-and-change, maintaining all the muscle that made this one a perennial champion of New York City's varied dancefloors.
The quirky "Isabelle And The Rain" was also a key cut for deeper DJs, uptown and downtown, albeit often on bootlegs as the original was, and remains, extremely scarce. Very little is known about the obscure jazzy cut, the work of a largely anonymous bunch of Los Angeles studio veterans led by keyboardist Mike Lang, whose electric piano solo is the song's defining feature alongside the driving drums, which get plenty of space to shine on Mr. K's Breakdown Edit.
The audio fidelity and peerless editing of these essential tracks - virtually nonexistent on 7-inch vinyl before now - makes the latest from Most Excellent Unlimited a can't-miss addition to the playout box of any DJ with a funky floor to rock.