[7"] Street Player b/w Get Up Get Into It Get Involved — MXMRK2039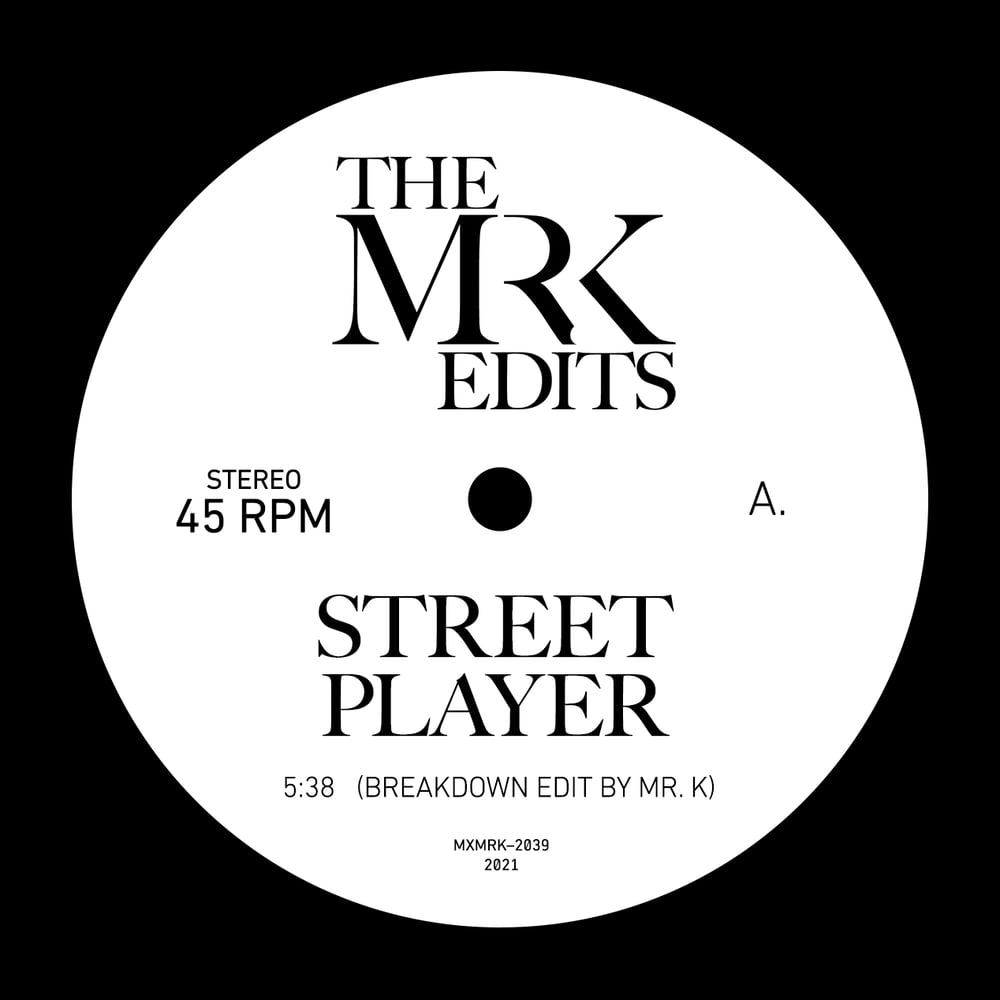 Cat # MXMRK2039 / Edits by Mr. K 7"
A. Street Player (Mr. K 7" Edit) 5:38
B. Get Up, Get Into It, Get Involved (Mr. K 7" Edit) 2:23
A pair of heavyweight DJ tools comprise Mr. K's latest endeavor on 7-inch for Most Excellent Unlimited, major staples in his DJ sets now ready for wider deployment.
Taking the lead spot is an intense percussion workout lifted from the middle and outro sections of Chicago's anthem "Street Player." The tune was written by David "Hawk" Wolinski of Rufus in collaboration with Chicago's drummer Danny Seraphine, and originally showed up as the title track on a 1978 Rufus album. Chicago's version the following year upped the ante considerably, with guest musicians of the caliber of Maynard Ferguson and Brazilian percussion maestro Airto Moreira, who shine in the segment Mr. K has worked over here. Harkening back to a well-loved NYC grey market 12-inch on the Rated X label which placed the percussion break at the beginning of the record, this new edit dispenses with the main body of the tune altogether, in the process leaving us with a gloriously lengthy, tension-building drum jam infused with Airto's sparkling percussion, twisting unison horn lines and crisp claps.
For the second side of this unofficial "Breakdown Edition" of the Mr. K series, it is back to the master and undisputed king of breakdowns, James Brown. Krivit, well known for working with the original multi tracks of "Give It Up Turn It Loose" (originally featured in the late '80s Polydor release In The Jungle Groove), along with "Funky Drummer" (arguably holding the title of the most sampled song in history!) An early hip-hop standard, "Get Up Get Into It Get Involved" is an equally important part of his DJ repertoire. Mr. K takes the powerful live version and provides DJs with an essential breakdown, build-up and lead-in to wherever they'd like to go next; leaving things at peak emotion with the choice to get back to the original James jam or into another groove altogether.