(RSD BLK FRI '22) [7"] ACAPELLA ANONYMOUS 7-INCH BOX SET BY MR.K – MXMRK-BOX-05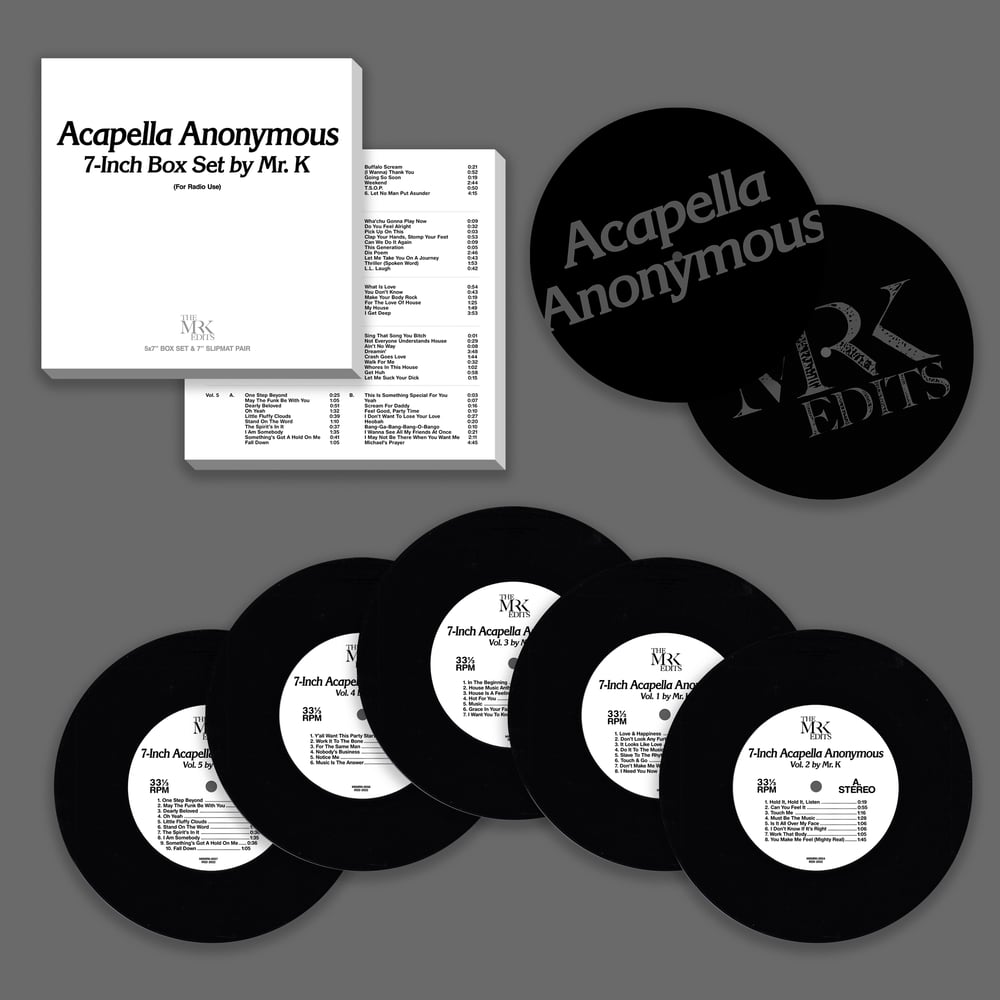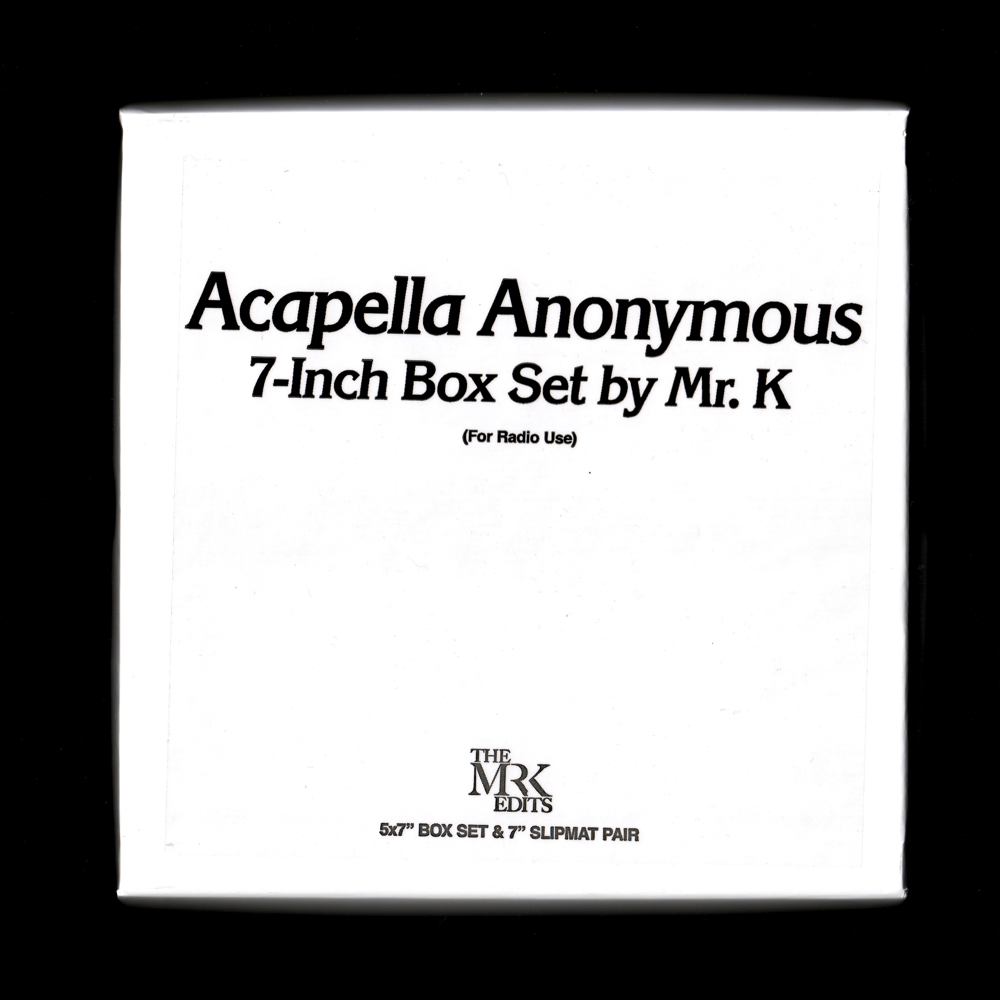 Cat # MXMRK-BOX-04
Acapella Anonymous 7-Inch Box Set by Mr. K
Black Friday RSD 5 Volume 7-Inch Set + Slipmat Pair
Now shpping!
The essential series from the '80s has been rebuilt, remastered, and carefully portioned onto a five disc set of 7-inch singles, including all the classic vocal bits that became iconic samples, and more than a few new additions to bring things up to date.
Where would dance music be without Acapellas Anonymous? Although many records claim to have changed the game, the arrival of the Acapellas Anonymous series in the mid/late '80s actually did just that. A hugely popular, multi-volume set of vocal tracks sourced from a wide variety of dance classics, AA was used extensively at the dawn of sampled music to provide hooks for numerous hits. "I've Got the Power," "Ride On Time," multiple Clivillés and Cole tracks, Pal Joey's "Party Time," '90s Italo house and rave cuts, and untold others all found their choruses among the many acapellas collected on the series. As Ultimate Breaks & Beats was for funk and hip-hop sampling, so was AA for dance music, both for producers and as a must-have for the creative DJ. Sure, before these records came along, DJs had their own choice vocal bits that they used in sets or layered into edits. But suddenly, much like Ultimate Breaks, these carefully guarded secret sources were available easily, and in convenient form, for the first time. And the response, from DJs and a new generation of producers, was immediate.
That part of the story is widely known, and indeed, was widely experienced by anyone paying attention to music of the time. But the questions linger: who was it that found these acapellas, many of them only existing on promo singles, or as tiny fragments buried on obscure B-sides? Who edited and put them together? By now, you may have guessed that once again we owe an enormous debt to the maestro of edits and our hometown hero, Danny Krivit. And it's to him we must tip our collective caps for this latest release, a carefully revised, fully remastered, and immaculately executed update to the series — this time on 7-inch.
All of the classics are here, rinsed but still powerful: "Let No Man Put Asunder," "Weekend," "Don't Make Me Wait," "You Don't Know," and dozens more. New additions make a few clever appearances as well, with Roland Clark's "I Get Deep" (used for Fatboy Slim's "Star 69"), and Rickie Lee Jones's stoned rambling known as "Little Fluffy Clouds" showing up for the first time. This is no nostalgia trip — Acapellas Anonymous was recently tapped for a Cardi B megahit, and naturally you'll find that source, Frank-Ski's "Whores In This House," included. All in all, an astounding 80 high-quality acapellas and vocal hooks are spread across the five 7-inch, 33RPM singles, which have each been sequenced thematically with attention paid to timings and tempos to provide maximum utility for the working DJ. And if the past is any indicator, we will likely see a new crop of tracks spring up as these find their way into the production toolkits of the world's track-makers.