[12"] Alicia Myers, "Right Here Right Now (Hallelujah Anyway)" (The Danny Krivit Mixes) — MXAB001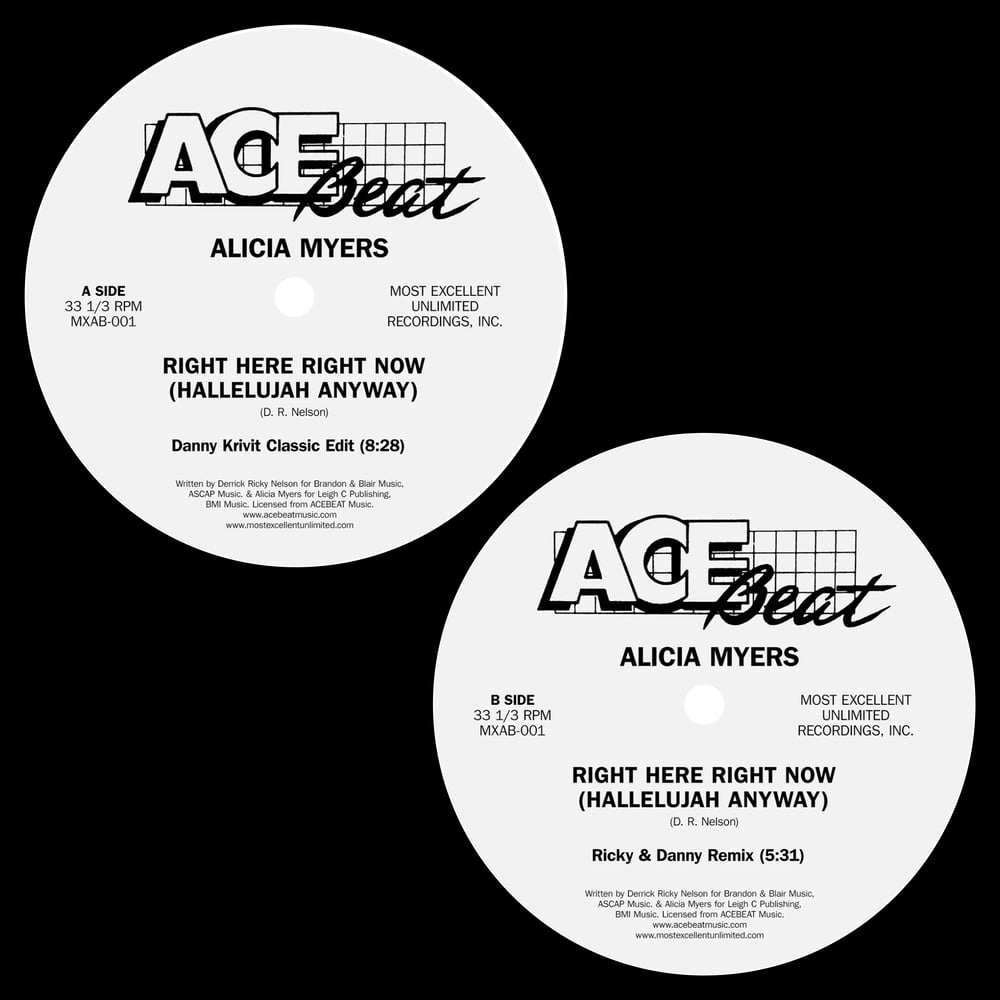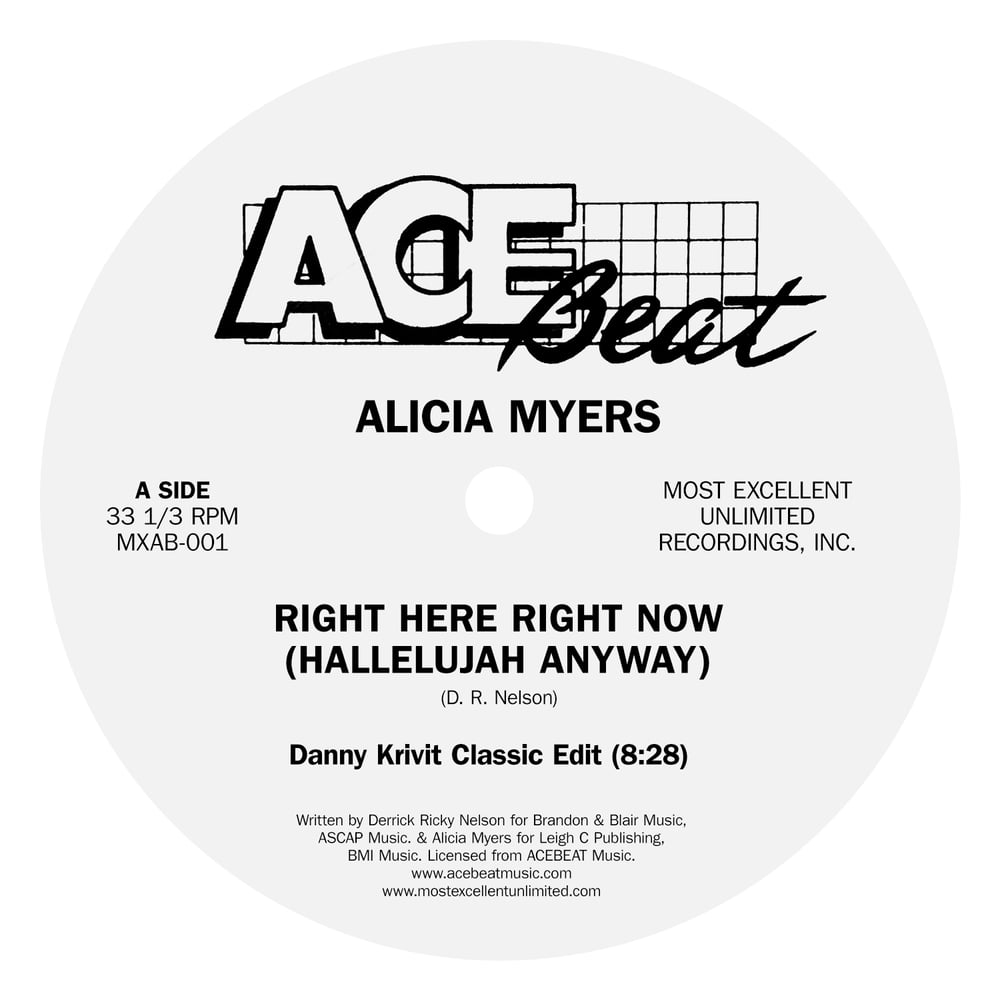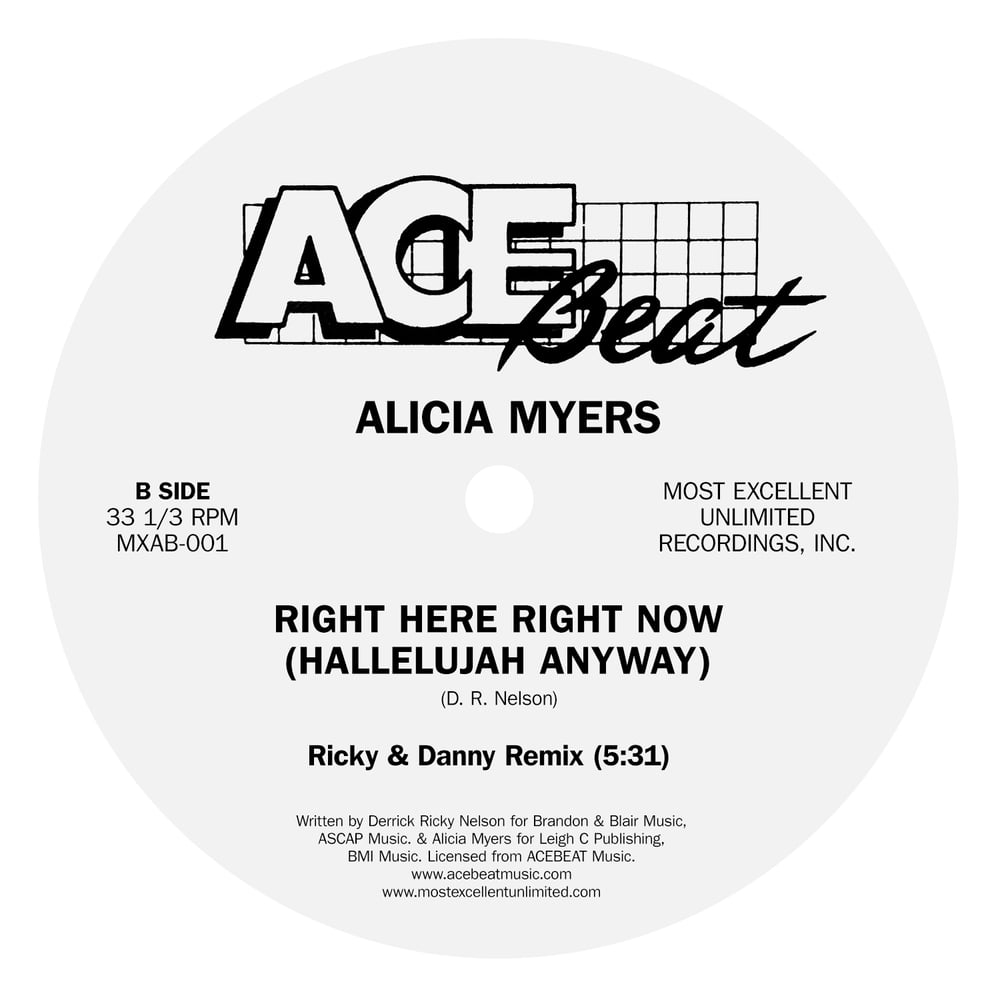 Cat # MXAB001 / Edits by Mr. K 12"
A. Danny Krivit Classic Edit (8:28)
B. Ricky & Danny's Remix (5:31)
Alicia Myers is in peak form on a new release from Most Excellent Unlimited and Ace Beat, "Right Here Right Now (Hallelujah Anyway)." Originally issued as a digital-only single by Ace Beat in 2015, this collaboration between the New Jersey house label whose early '90s releases are still considered gospel house masterpieces and MEU marks the first time the track will see vinyl release. Making its debut are Danny Krivit's edit of the original Derrick Ricky Nelson mix and an exciting remix from Ricky, the song's composer, and Danny, who championed the song from its first appearance and has featured it ever since in his sets.
The connection between Alicia Myers and Danny Krivit goes back much farther than most people know. In fact, her breakout 1981 single "I Want To Thank You," among the most beloved dance music classics of all time, was initially broken by Danny when he played the promo at the Paradise Garage, catching Larry Levan's ear. When influential radio DJ Frankie Crocker subsequently heard it featured in Levan's sets, he immediately programmed it on WBLS, New York's premier Black FM station, and the song's legacy was assured.
Much like "I Want To Thank You," "Right Here Right Now" perfectly blends an inspiring, gospel lyric with an impassioned, soulful vocal performance and club-ready instrumental backing featuring a muscular piano hook. The uplifting sentiment has already proven its power to elevate and unite dance floors in the communal expressions of joy that are central to the most soulful dance experiences and the time is right to spread the feeling!
This exclusive release will be showcased on twelve-inch vinyl with a precise replication of the classic '90s Ace Beat label.