[12"] I CAN'T STAY AWAY B/W HIT & RUN — MXMRK2052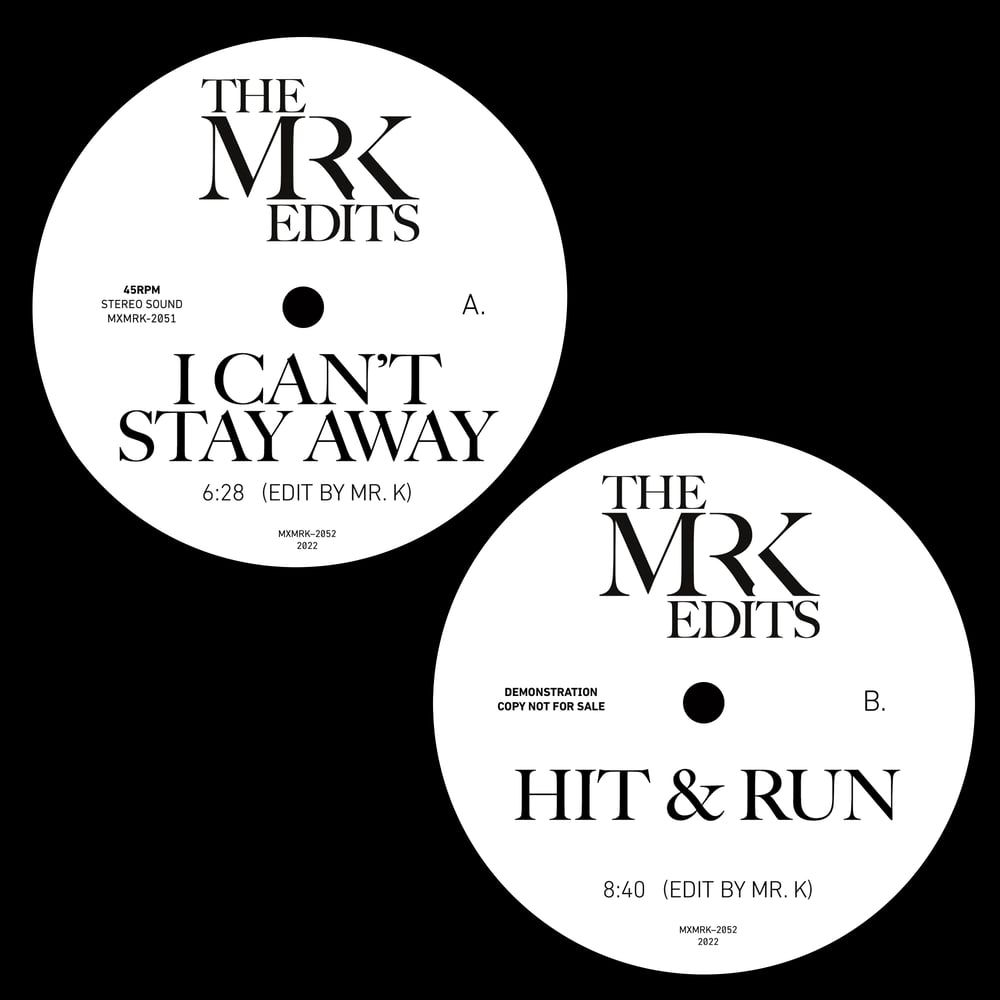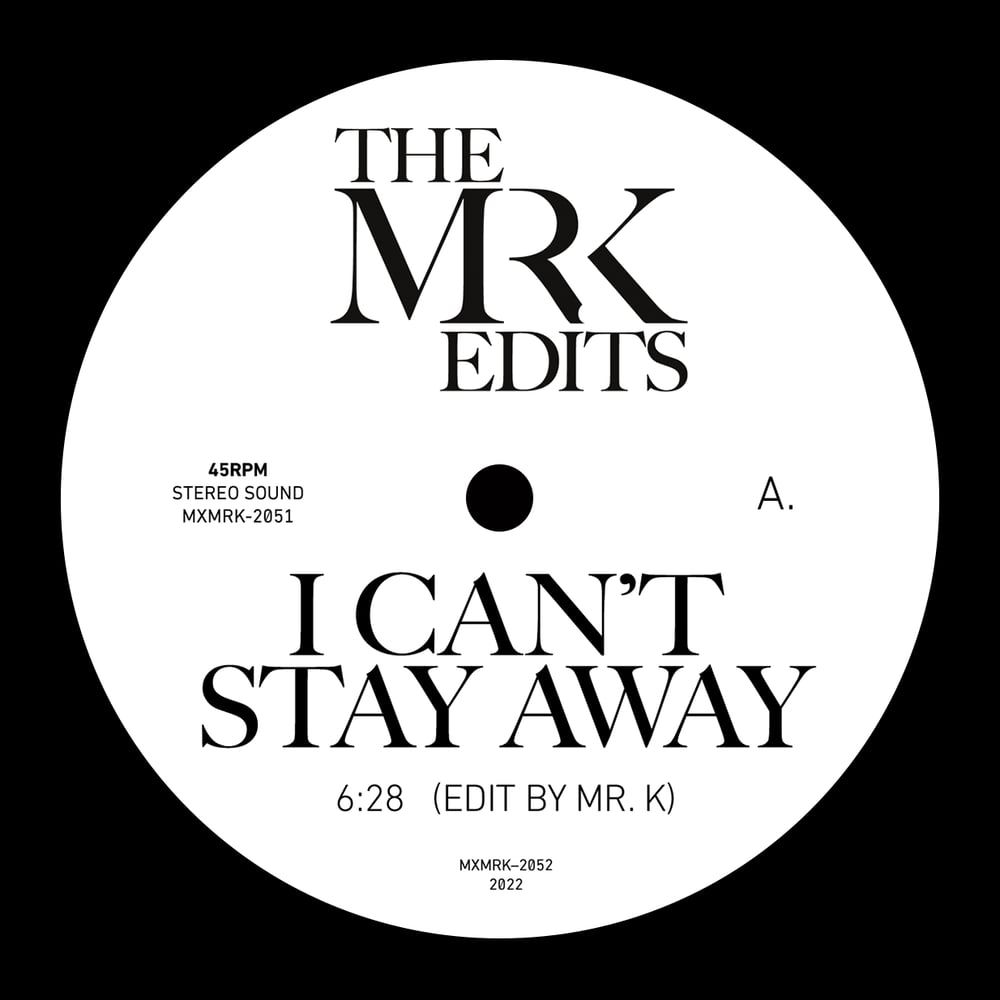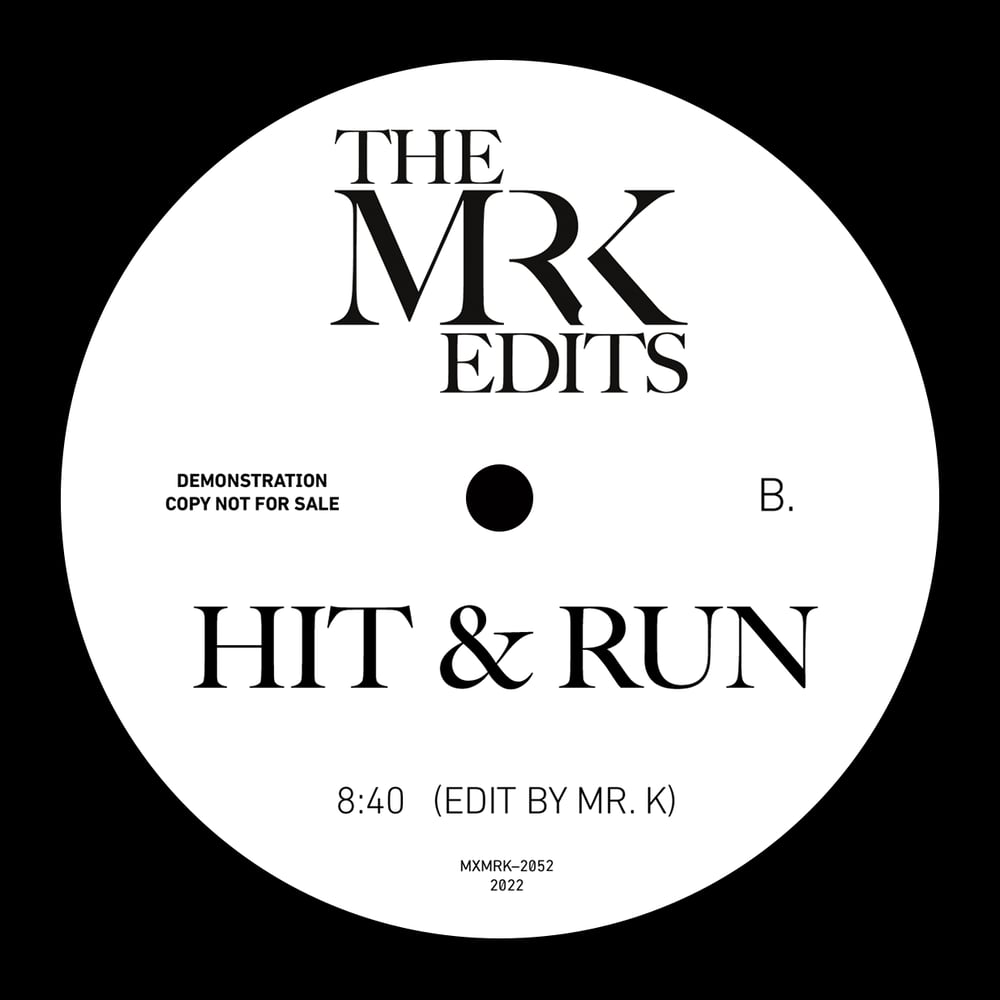 Cat # MXMRK2051 / Edits by Mr. K 12"
A. I Can't Stay Away (Edit By Mr. K) 6:28
B. Hit & Run (Edit By Mr. K) 8:40
High-powered disco intensity is what this new slice of long-form goodness from Mr. K is all about, in the form of two neglected cuts rescued and fully refurbished by the master.
For our exclusive edit, Danny has boiled the Dynamic Superiors' "I Can't Stay Away (From Someone I Love)" down to its most concentrated form, leaving us with a hard-charging, peak time, disco climax that leaves dancers no choice but to work up a serious sweat. Matching the intensity of the legendary breakdowns in "I'm Here Again," "Don't Leave Me This Way," or even "You Make Me Feel (Mighty Real)," "I Can't Stay Away" is also an essential gay disco classic, with lead singer Tony Washington being a groundbreaking, proudly out lead singer whose voice surely influenced an up and coming Sylvester at the time. Check out his ad-libs, which Mr. K has made the focal point of his edit, and the similarities between Washington and Sylvester are inescapable. Released as a single in 1977, the song peaked at 27 on Billboard's Hot Dance/Disco chart. Krivit's edit uses the longer album version, which is appearing here in 12-inch long form for the first time.
The intensity follows through on our flip, another patented Mr. K extension that jumps right into the juiciest parts of the cut and doesn't let up. "Hit and Run" was first released on a single by the obscure Opus 7 in 1979 but didn't make as much noise as the slower, funkier tune it was paired with, "Bussle." This edit rescues and rejuvenates the cut by eliminating everything but the transcendent ride out, extended to a glorious eight minutes in order to fully enjoy its pumping bass and Philly-style group harmonies.
This exclusive 12-inch has been mastered and pressed to our usual exacting standards, another killer club weapon for the serious DJs and dancers.