[12"] I Love You More — MXMRK2028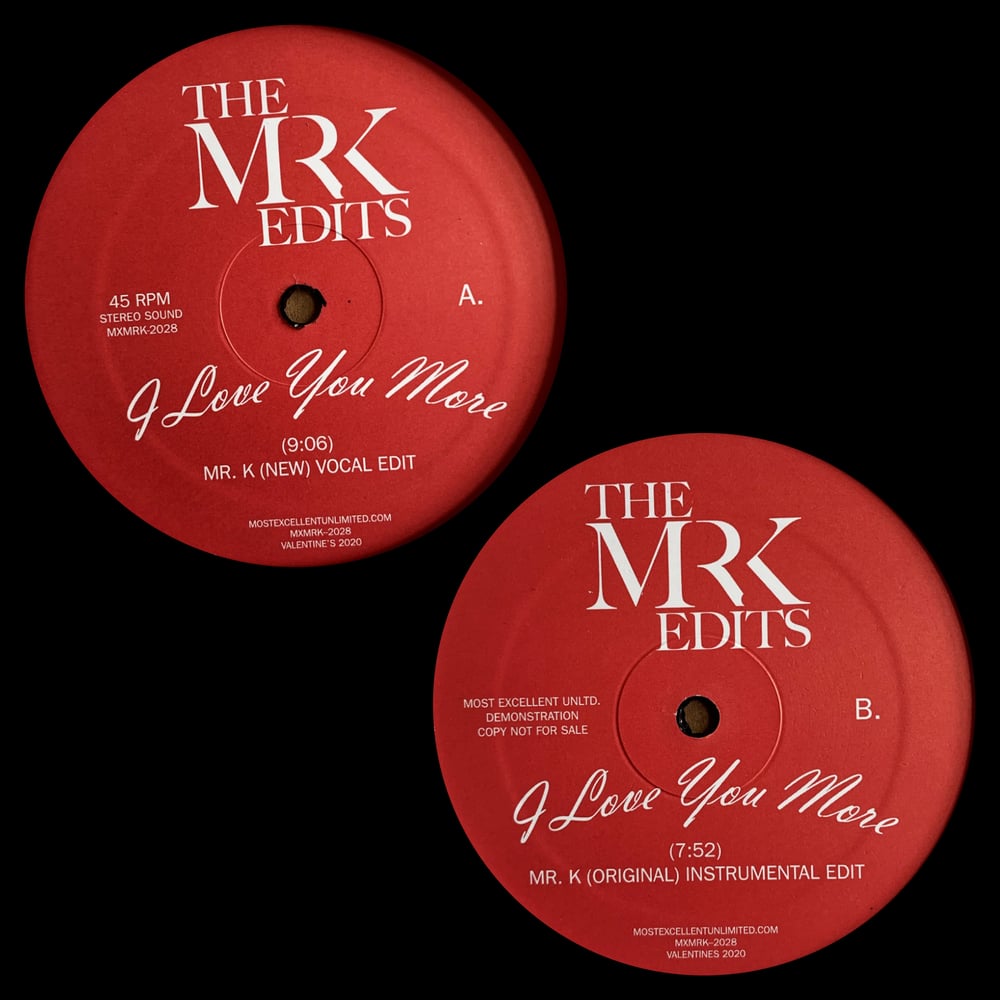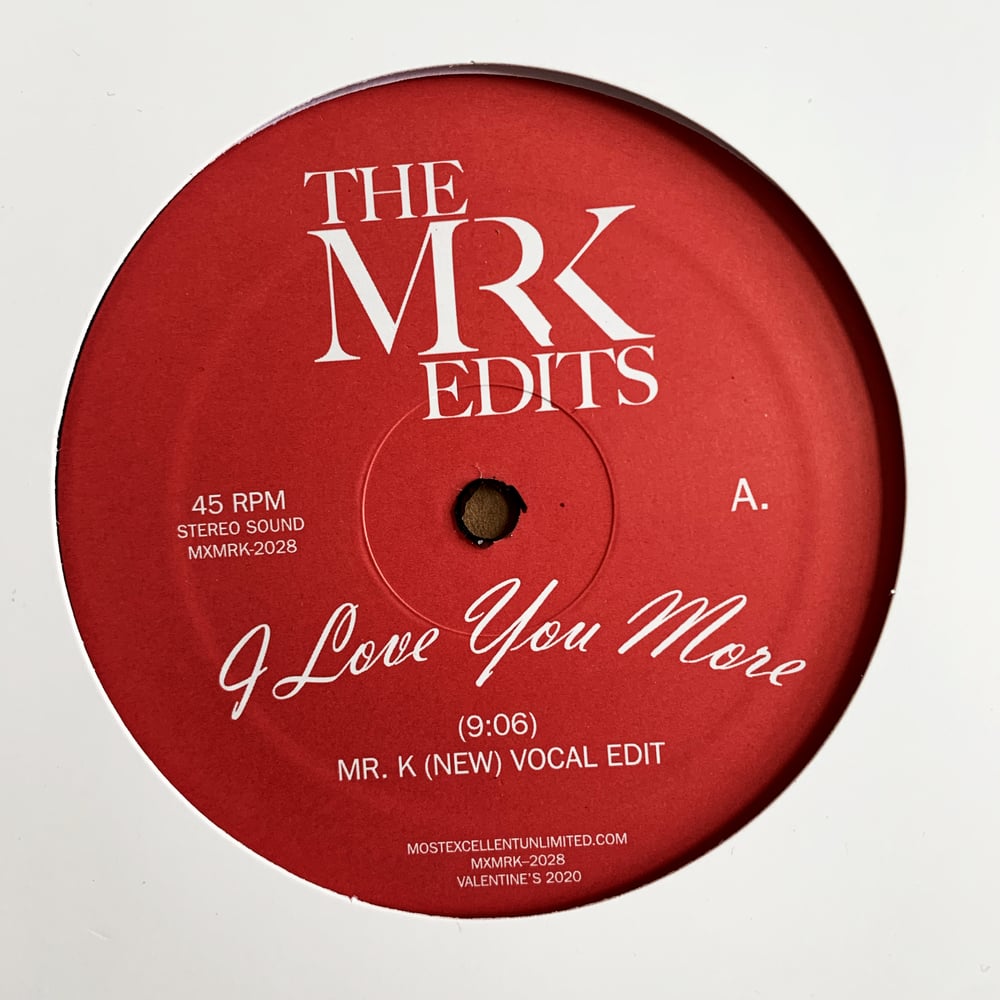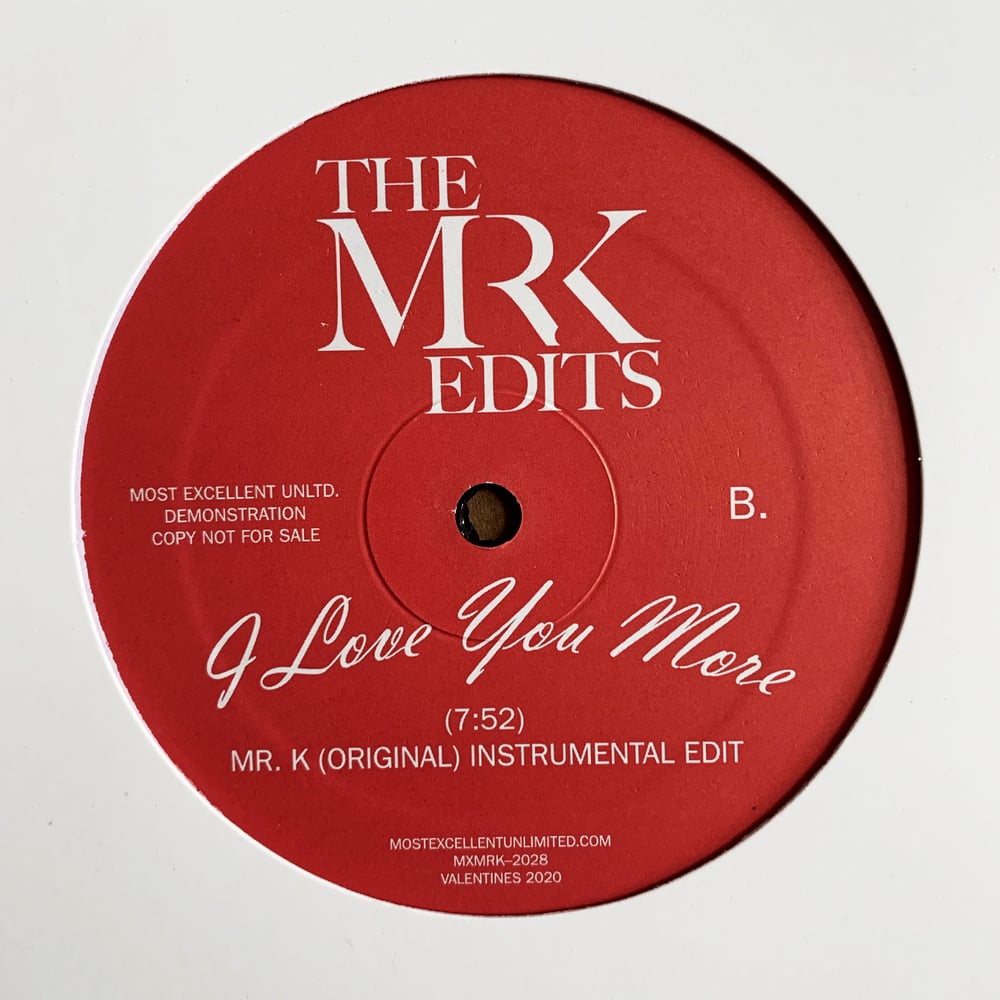 Cat # MXMRK2028 / Edits by Mr. K 12"
A. Mr. K (New) Vocal Edit
B. Mr. K (Original) Instrumental Edit
Mr. K and MEU are back with a definitive issue of one of the greatest '80s R&B cuts, René and Angela's majestic "I Love You More."
Despite residing in the upper echelon of Billboard's R&B charts for the entire summer of 1981, twelve-inch copies of "I Love You More" have always been tricky to track down, a promo-only item that meant hearing the extended mix was a rare treat. Back in the early '80s, one place you could reliably enjoy it was when Danny Krivit was playing for the skaters at The Roxy in downtown Manhattan. "Not too fast, not too slow," describes the perfect skating tempo, and "I Love You More" fits the bill to a tee. With this new release, Danny Krivit has revisited an earlier edit of the song and turned in two brand new, epic reworkings, the first time his vocal mix has ever been available.
Laced throughout with artfully matched additional instrumentation, from the reverb drenched solo piano that opens and closes the song, to the spacey synth improvisations that ripple throughout (both courtesy AK), to the touches of just right extra percussion, nothing is heavy-handed or overdone. Even with the vocal version clocking in at a generous nine minutes, the captivating groove and revamped arrangement leave listeners wanting more. Fortunately the flip side instrumental opens up endless possibilities for creative DJs to take things even farther.
"I Love You More" was originally produced by Bobby Watson, Rufus bassist and an A-list L.A. studio veteran also responsible for the bass line in MJ's "Rock With You." Watson brought in many of those same studio pros for this session, including legendary engineer Bruce Swedien, who put an equally luxurious gloss on "I Love You More" as he did with "Off The Wall" two years earlier. Bobby Watson also happens to be René Moore's older brother. In a touch of familial echo, AK, the keyboardist on this new landmark rework, happens to be the wife of Danny Krivit.
Most Excellent Unlimited is releasing Mr. K's "I Love You More" edits as a special Valentine's day twelve-inch vinyl release, complete with red label, a first for the modestly monochromatic MEU.