[12"] One Step Back Two Steps Front b/w Funk It — MXMRK2029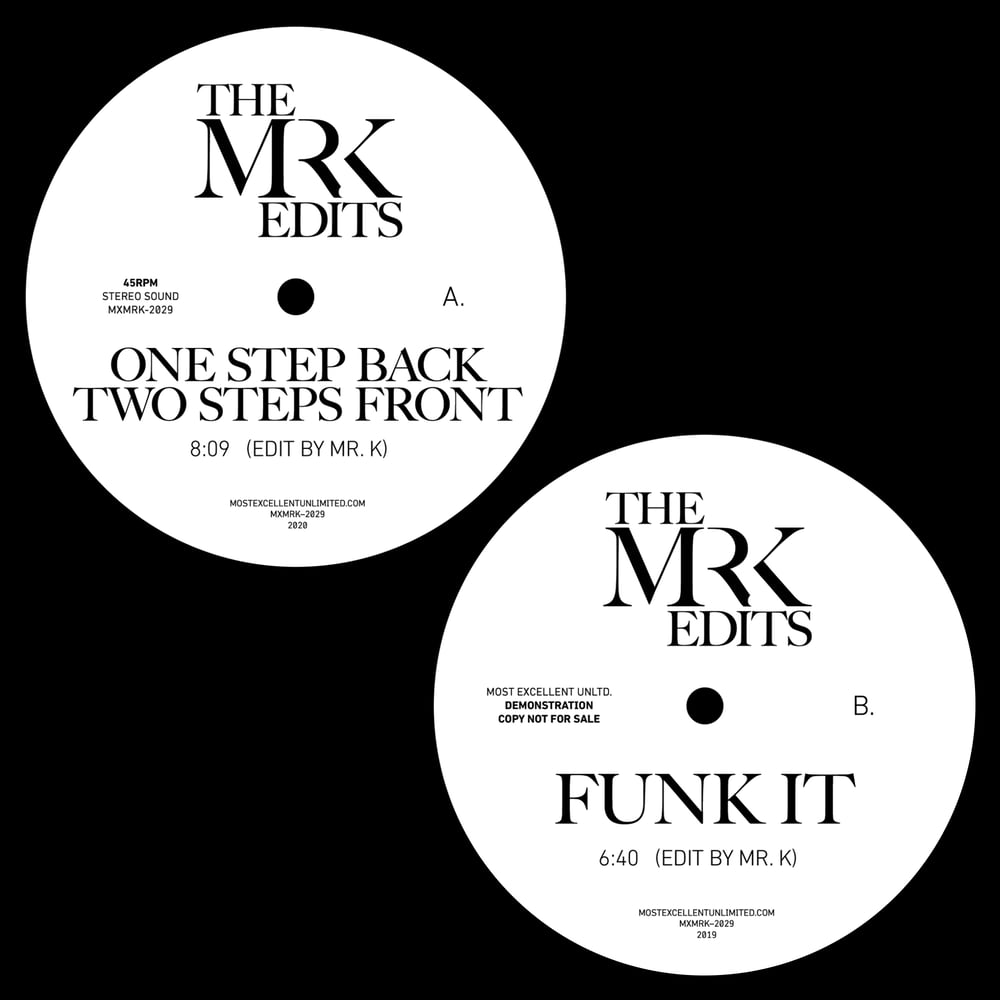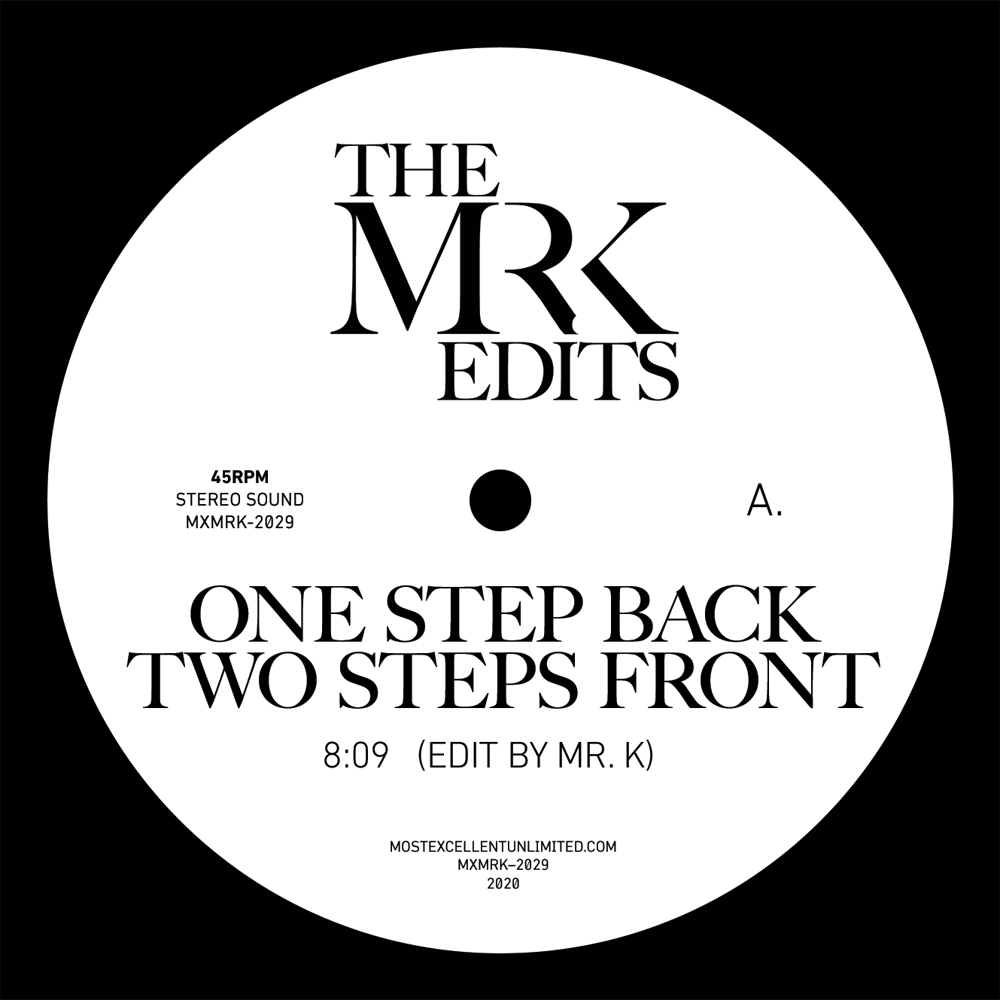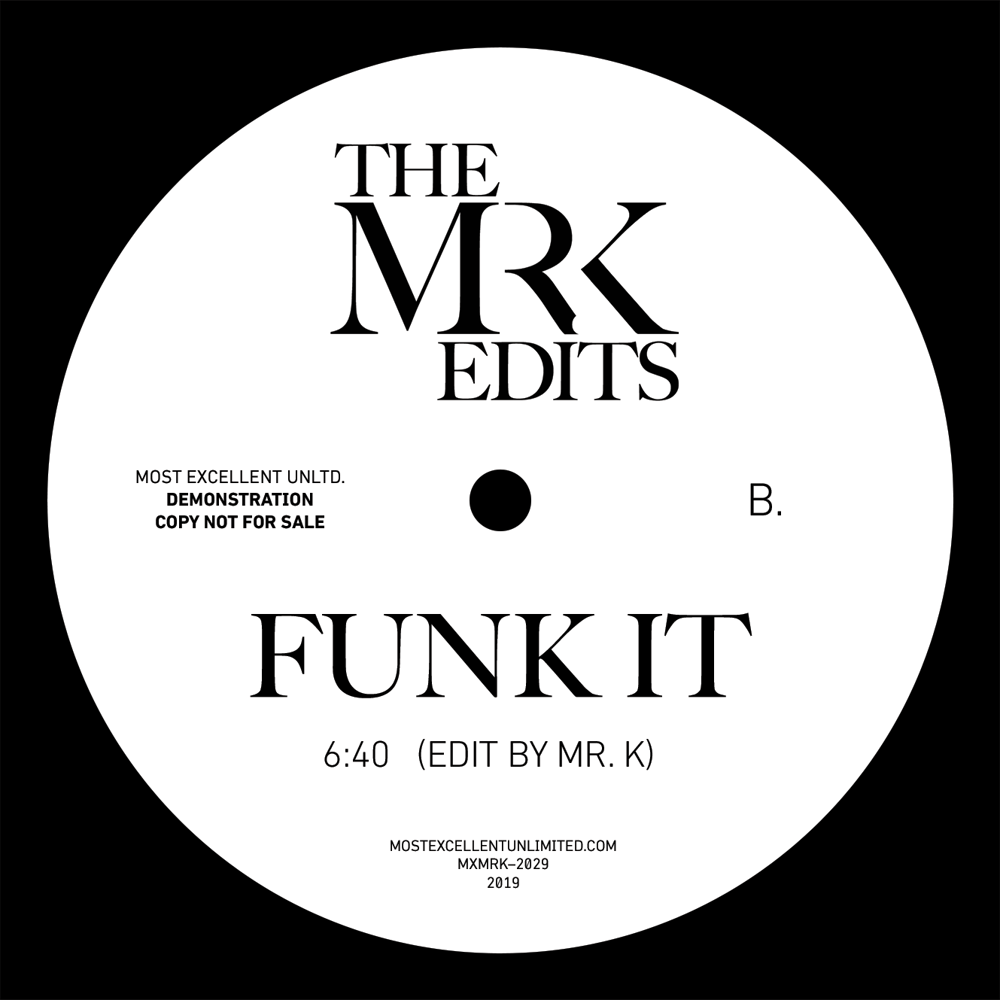 Cat # MXMRK2029 / Edits by Mr. K 12"
A. One Step Back, Two Steps Front (Edit By Mr. K)
B. Funk It (Edit By Mr. K)
The latest collaboration between Most Excellent Unlimited and veteran DJ and editor Danny Krivit takes the form of a 12-inch single celebrating the hardcore high-energy sound that often fueled nights at the Paradise Garage — uptempo and passionate.
Betty Wright was a queen of modern soul music whose career bridged multiple generations and musical styles. She made her professional debut at an impossibly precocious two years old with her siblings' gospel group and scored an international pop hit with "Clean Up Woman" when she was just 17! The single went gold in 1971, the same year Danny Krivit began professionally DJing and was the first among many records of Wright's that would become important in Krivit's sets. While he regularly featured the mid-tempo stepper "I Love The Way You Love" and the bright, funky "Where Is The Love," given our focus on high-energy Garage classics Mr. K's pick from Wright's oeuvre for this single was naturally "One Step Up, Two Steps Back." A 1984 release produced by Amir Bayyan, younger brother of Ronald "Kool" Bell of Kool & the Gang and a successful producer who was infusing the early '80s club scene with quality cuts like "Funn" by the Gunchback Boogie Band, "Give It To Me" by Conquest and two strong singles from Tomorrow's Edition. The sound of "One Step Up" is prototypical big drum mid-'80s, with the added touch of a Morales & Munzibai Mix on the 12-inch. "Not many other people knew how to play it the way Larry did," Krivit recalls, "It had a lasting affect on me, which inspired this edit". This version Focuses on the intensity & building of Larry Levan only using the key elements of the dub mix, and emphasizing the late-song emotional peak of Wright's vocals, giving it a much tougher edge.
Eddy Rosemond's recording career may have been but a brief flash compared to Betty Wright's, but his song "(Wake Up And Move) Funk It" punches well above its weight on the flip of this high-energy Garage excursion. Riding giddily over a peak time disco groove, the singer from Martinique's similarity to Sylvester is uncanny. For a Garage audience who adored Sylvester's signature sound but were left unmoved by a lot of his '80s releases, "Funk It" became a surrogate for the sound they'd come to love. Krivit's edit rightly features the much-sampled cosmic synth hook, still sounding futuristically funky as ever, and loses none of the frantic power of the original.